Add a Project
Create a new project in Toolbox
What is a Project ?
A Toolbox "Project" is the container for your documents, records, tasks, etc.

Each "Project" is a completely separate entity, with it's own settings, team members and billing.
A Toolbox Project could be used to manage a business, a construction project, planning a big event, or anything else where a team of people work towards a common goal.
Toolbox is particularly good for organisations working towards or maintaining compliance with any of the international management standards (Quality, Safety, Environmental and related standards) published by ISO.
You can create and configure Projects to suit your needs. One company may have several Toolbox projects. One person can be a member of multiple Toolbox projects.
e.g., * A company group may use a Toolbox project for each business unit or location. * A construction company might use a Toolbox project for each of their major construction projects. * A consultant involved with several businesses has access to each company's Toolbox project.
Enter a Project
If you were invited to join a Toolbox Project, you should see the Project listed on your Dashboard after you login.
Click on the project title to go inside and access the project content.

All Toolbox projects that you are currently a member of will be listed on your Dashboard.
It's common to only see one or two Projects listed on your dashboard. Someone who works with many different companies (e.g. a consultant) may have access to many Projects and will see them all listed.
Create a new Project
Every new project begins with a 15 day free trial period.
Once you have logged in to Toolbox, click on "Dashboard" (1) and then "+ Add Project" (2):

Enter a name and choose the type of project you want to create in the "Create Project" dialog box that pops up. If you're new to Toolbox then the Tutorial project will help you find your way around. Otherwise choose the empty "blank" project.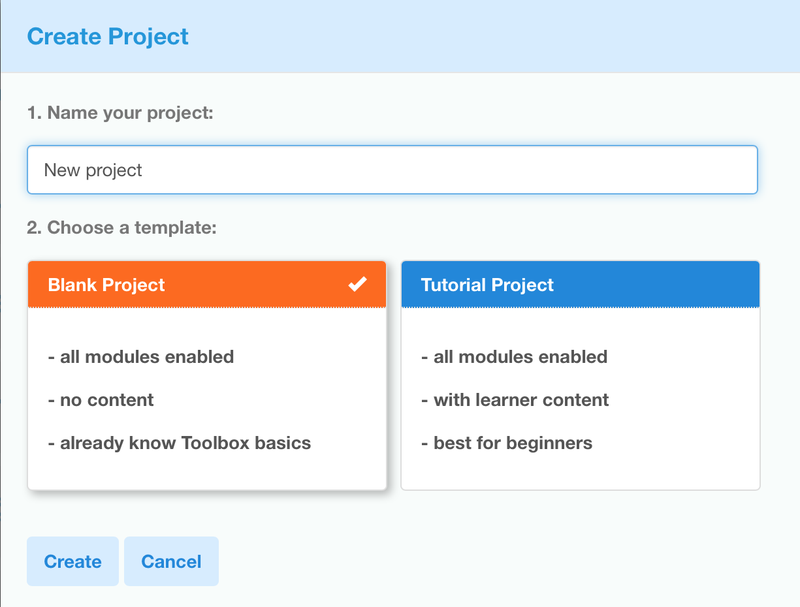 The Project creator will have full access rights
When you create a project, you start as the 'Project Manager' with full access rights to configure the project settings, manage team members, and enter payment information.