Adding Assets
Adding Assets
Under the Assets tab in Toolbox, click on '+ Add Asset'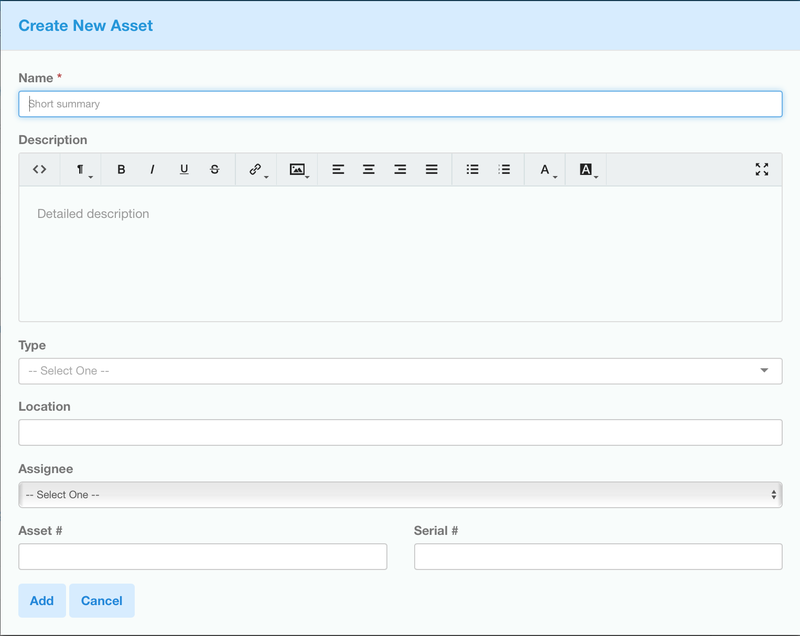 Enter the basic details:
Name (required), will be visible in the Assets Register.
Description - for any extra details, e.g. special attachments, load limits, cautions, general info.
Type - is just a way of organizing the list of Assets. It's used to filter search results and for later reporting.
Location - If you have multiple sites, or multiple buildings, you can note the location of the asset.
Assignee - the person responsible for this asset. They may be in possession of it (e.g. a vehicle) or they may be responsible for looking after it. The Assignee will receive email notifications whenever this asset has a schedule due date, even if they are not the Assignee for the schedule.
Asset Number - If you have an existing Asset numbering scheme, you can record the details here. This field accepts any numbers or characters.
Serial number - You may want to store the serial number of the asset to assist in identification and in servicing or warranty claims.
'Name' is marked with a red asterisk to show it is required information and must be filled in before you can save the new Asset. All the other fields are optional, and can be left blank and optionally filled in later.
Click on "Add" to save the new Asset.
You'll see the new Asset appear at the bottom of the Asset register. It will be sorted according to the asset name when you reload the Assets Register.
To add more details to the Asset, click on the Asset name in the Assets Register.
Files & Related Items
Once you've saved the asset, you can upload files and/or link to any related documentation - e.g. user manuals, safe work procedures, etc.
Start typing in the Related Items box to bring up a list of matching items in your Toolbox project. You can also copy in a URL (e.g., the manufacturer's website).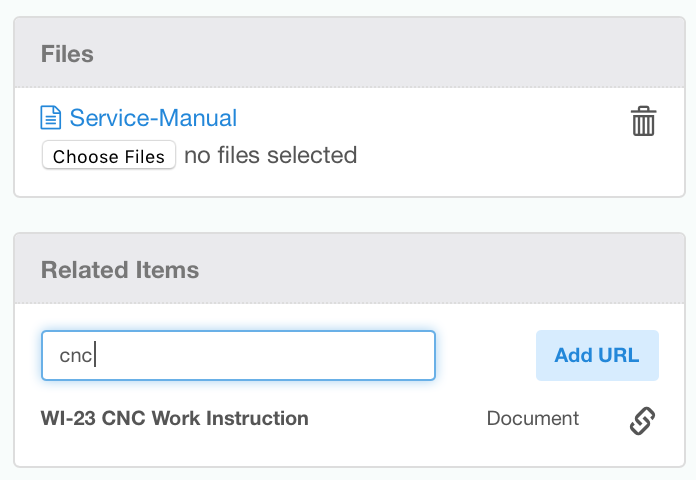 Subtasks, costs
You can keep track of small improvement projects or other tasks related to this asset by adding and assigning subtasks, via the 'tasks' tab for this asset. More on subtasks
You can also keep track of various costs associated with the asset via the 'costs' tab.