Management Review
A management review is a review by "Top Management" of your management system to assess whether it is effective and suitable for the organisation. The ISO management system standards require certain topics be reviewed, and this is often achieved through the agenda for a management review meeting.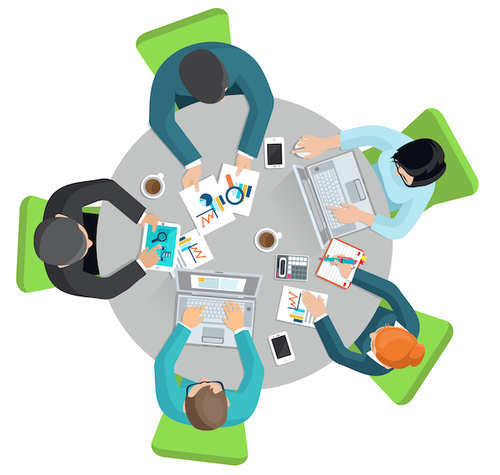 Management review can be done any way you want, but a very common approach is to conduct the system review in a meeting. Management review meetings are an important opportunity to bring together an overview of the management system, to assess it's performance, and to identify any opportunities where it can be improved.
You need to hold them "at planned intervals" - typically at least once per year, and it's essential that top management be involved. "Top management" are the people who set the direction for the business, delgate authority, and decide where resources are allocated - a CEO, owner, director, department heads, etc.. Once a year can be considered a minimum, and some topics are much better reviewed more often.
The management review meeting agenda should include a review of:
internal and external factors that affect the strategic direction of the organisation that are relevant to the management system, e.g., changes to standards, regulations, technology, competition, staffing, stakeholder expectations, competitor information, the organisation's performance, culture, resourcing, structure, etc.
what was planned in response to strengths and weaknesses in these internal and external factors, and whether those actions were effective in minimising risks and maximising opportunities.
customer feedback - look closely at the negative feedback, but don't leave out the positive feedback - it's valuable data too (and nice to hear!).
were the quality objectives met? Adjust KPIs / set new objectives.
is the company's quality policy appropriate for the current strategic direction?
process performance data - are our processes reaching/maintaining performance targets?
nonconformities/ issues raised or resolved since the last management system review to make sure problems are being resolved properly, and to look for trends in the data
supplier performance, signifiant changes to external providers
internal and external audit findings and reports
improvement requests
adequacy of resources - do we have the people, equipment, skills, etc., we need to achieve what is planned?
and other business activities that could affect the quality system
To be effective, attendees need to come to the meeting prepared with data, and be ready with some conclusions and/or recommendations drawn from the data.
The management review meeting agenda looks like a long list, but there's no reason you can't break it into smaller chunks and spread the topics over multiple meetings. If top management already attend regular operational meetings, just include a couple of management review agenda items in each one. It will be easy to cover them bit by bit in monthly meetings over the course of a year.
In fact, 'Management Review' does not have to happen in a Management Review Meeting at all. You can use any method - via written reports circulated by email, or posters down the hallway, or anything else that works for your organisation. Whichever way you choose to conduct your management review, you will need to make sure you have records that show you have covered all the required input topics. If your management system is certified, your external auditor will also be looking to see whether your management review process is effective.
At the end of the management review meeting you will need to record any decisions and actions to be taken to improve the management system, products, and/or processes, and what resource needs have been identified. These are typically recorded in meeting minutes.
( table image by macrovector on Freepik )
---
Looking for a quick solution?

Download an Agenda and Meeting Minutes template for Management Review