Keeping Track of Credentials
Oct. 7, 2015
While tracking competencies is also required for the safety and quality of service in any other industry, the detail required and the risks involved make tracking credentials one of the most difficult parts of HR management in healthcare.
Credentialing
In healthcare, 'credentialing' is the formal process to verify the qualifications, experience, and professional standing of clinicians. Following on from this process, health care organisations must then define a clinicians 'scope of practice', which matches the abilities of the clinician with the capabilities of the facility, e.g., you may know how to run an x-ray machine, but if the facility does not have one, it will not be included in the scope of practice.
Tracking credentials is more than just a list of skills and competencies. Proper credentialing requires records supporting scope of clinical practice, indemnity certificates of currency, professional development certification, skill competencies and immunization status. The list can seem endless.
The credentialing process for all hospitals includes checking a number of core requirements as well as skills assessments and in-service records for a number of job roles. These roles may include visiting/in-house medical officers, medical and nursing students, allied health, housekeeping and nursing staff. Some requirements overlap across disciplines, further complicating the process!
Some hospitals often use a spreadsheet-type tool to provide a summary of people and competencies. This approach is flawed and is labour intensive, relying on a person to manage the data entry for each role, each person and each credential.
So, how do I do it better?
Kelly Brandt from Tick It Business Solutions, says "For a small investment, a professional tool is well justified for even small practices. There are a number of tools on the market, but my preferred tool is QSToolbox."
The beauty of QSToolbox is the 'gaps' report and seeing upcoming expiry dates. "This is useful for Reception staff to check if a Visiting Medical Officer has current Indemnity Insurance and AHPRA registration prior to commencing their next clinic at the facility."

In QSToolbox, you can assign any number of "Jobs" to a person, and 'stack' them to build up the list of required competencies for each employee. This means you can create a number of common job descriptions to manage a competency across a number of more specific job roles, rather than assigning the requirement to each job individually.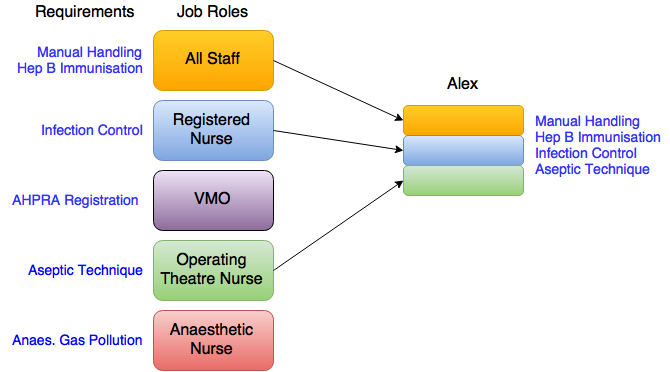 For example, all staff at "St Elsewhere" require "Hepatitis B Immunisation" and "Manual Handling". First create each competency and then assign those as requirements to a hospital wide job description (e.g. 'All Staff'). If you assign that job role to every employee in QSToolbox, then all staff will pick up the requirement for "Hepatitis B Immunisation" and "Manual Handling". You can now use the built in reports to see who is missing records for these requirements.
In a similar way, additional job descriptions can be used to manage a number of permutations of core requirements for different types of clinicians in the hospital. e.g., All Registered Nurses regardless of their specific role need "Infection Control", and all VMOs need a record of their "AHPRA number". Operating Theatre Nurses need "Aseptic Technique", while Anaesthetic nurses need "Anaesthetic Gas Pollution".

Competency requirements add up
For 'Alex', who is an Operating Theatre nurse, we assign three job roles: 'All staff', 'RN', & 'Operating Theatre Nurse'. Alex picks up competency requirements from all three roles:
Manual Handling
Hepatitis B Immunisation
Infection Control
Aseptic Technique
Add training records to meet requirements
Alex's competency requirements are 'ticked off' by adding training records to QSToolbox. In addition, a copy of the credential or a link to the credential from an online provider (e.g. AHPRA ) can be stored in the individual's record, reducing data entry errors.
QSToolbox reports look at the expiry dates to work out whether the competency is still valid, and present a summary of who needs updating.
To get the most of out of QSToolbox, it is ideal to have a clear understanding of what skills or competencies are required for all types of staff at the facility. This also means having a clear understanding of credentialing requirements, documented by the Australian Safety & Quality Commission.
Other resources:
Standard 1: Governance for Safety and Quality in Health Service Organisations (pdf)
Standard for Credentialling and Defining the Scope of Clinical Practice