News
The "News" tab provides a way to communicate to all users of QSToolbox. It's not a requirement of any standard, but can add to the ways you handle "Internal Communication". Think of it as a bulletin board. Sending company news this way can cut down on email overload.
Some example headings might be:
"New office opening in London"
"We have been acquired by Schmoogle Inc"
"It's a boy"
"Sales reach new heights"
"Mega-Tender Successful"
"Welcome to Fred in the Accounting Dept"
… whatever you like – formal or informal news.
News postings can include images and links, and headlines show up in a portlet on the right hand side of the screen: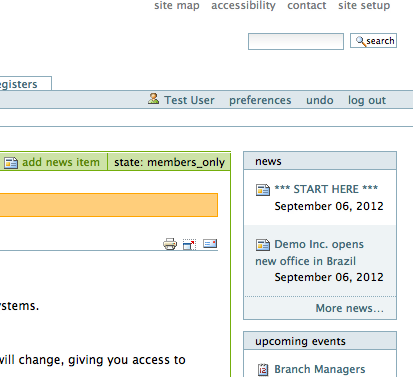 Add a News Item
First click on the top level blue "News" tab, then click on the "add .." button (1) in the green toolbar: