Where to begin
This version of Quality Systems Toolbox is no longer in use. Current documentation for v3 is here.
The training module contains several different kinds of content that link together:
An Employee record contains the basic contact data for the employee and provides access to their training history and competency assessments. A login account can be created from here for those employees who need access to QSToolbox. The list of all your employees becomes your dynamic staff directory. Add pictures to help new employees (and existing ones) find who they need to talk to.
Employees can be organised into Groups (e.g. departments, branch offices, project teams, or functional groups) for easier management. Most views in the training module let you limit the search by group.
You can extend the idea of an 'employee' to include other personnel you need to manage training and competency records for, e.g. subcontractors, distributors. You can assign these people to an appropriate Group to separate them from your actual employees.
A Job description contains the information needed to define the position or role. An employee can be linked to several jobs. e.g. the Production Manager may also act as the Management Representative for the QA system. Conversely, multiple employees can be assigned the same job, e.g., several employees are employed as "Service Technicians". In order to perform well at a particular job, employees need to have certain 'competencies'.
A Competency is a skill, license, ticket – e.g., a driver's license, forklift operator's license, working at heights, first aid certificate, internal auditor training, MYOB. You can use a competency to manage any type of training that you need to keep track of – e.g. employee inductions, safety updates, training for in-house procedures.
A Training Event will cover a competency, and attendees(employees) will be issued Training Records on successful completion of the training.
A Competency Assessment is used to record pre-existing qualifications and well as for recording proficiency gained through on-the-job training.
First Step
You can start by entering in your company information into the Training Manager. This information is automatically acquired by all your employees so you only have to enter it once. (You can override the information for each employee just by entering different data for them).
To setup the Training Manager, choose the 'edit' tab and fill in the company information.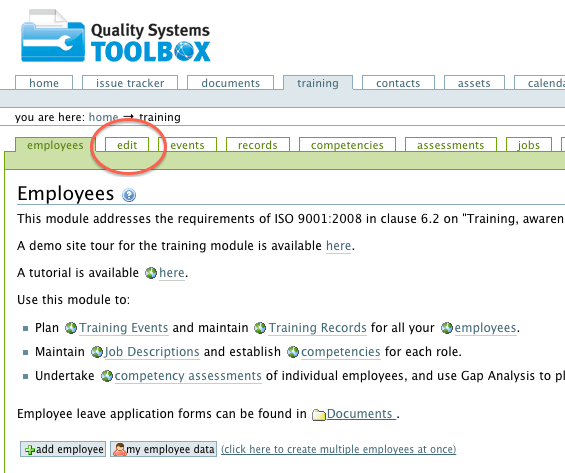 The text field allows you to change the text shown at the top of the Training Manager view. You might add notes about what content belongs in the Training Manager, add a link to the person to contact for help, or link to the Employee Handbook in the Document Manager.
You have the option to select a group/department as the default search option. If you don't select a default, then 'all' will be the default. (You will need to create some first though!)
Don't forget to Save.
Adding Content
It is now time to begin adding content into the Training Manager. The different content types can be loosely divided into setup:
and then using the system:
Setup Content
If you have thought it all out first, then add Competencies, Jobs, Groups, Employees in that order so that the items you need to link to exist when you create the later content. However, for 99% of us who don't think it all out first, Just add the setup content in any order that makes sense to you, and just go back and edit as needed.
I usually begin by adding Employees. This will start your company directory and you can begin to assign things.
To fill out the information in your company directory, you'll add Job Titles and Groups/Departments and link them to the appropriate employees.
In order to start managing your training requirements, you'll need to define your requirements as Competencies. As you work on your Job descriptions you can start creating and assigning the competencies those Jobs require. Groups can also require competencies.
Employees will automatically pick up their required competencies from the Jobs and Group they are assigned to.
Adding Records
Start to record what training Employees have already completed and what skills they have by adding adding Competency Assessments, Training Events, and Training Records.
Now you have all your data in QSToolbox, you can begin to assess your training needs. Examine the Gap Analysis reports to easily see what competencies employees are missing and what training you need to plan for.