Training Records
This version of Quality Systems Toolbox is no longer in use. Current documentation for v3 is here.
You can record training in QSToolbox using either Training Records or Competency Assessments.
For future training where you want to see the details in the calendar, you should always use a training event. Once the training event is finished, it's easy to create training records for all the attendees with a few clicks (as shown below).
Creating a bunch of training records at once is easy, so you should use training records whenever you had a group of people do the same training at the same time, even when the event has already passed and you're catching up on your record keeping.
When it is for just one person, and the training has already been completed it is better to use a competency assessment.
A training record 'ticks off' a competency requirement. Where the training requires a periodic refresher course, QSToolbox keeps track of those dates and provides an alert for expiring competencies.
Creating a Training Record
To create a training record, you must first create a training event. See the Training Event page for more details.
When the training has been completed, you need to come back to the event listing and create training records for all the attendees who completed their training. These records form the training history for your employees, and 'tick off' the competency covered.
First go to the "records" tab in the green toolbar for the event.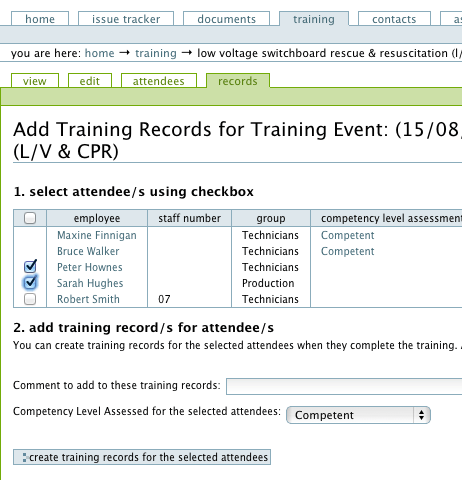 Select the attendees you want to create records for.
Optionally add a comment and choose the competency level you want to apply.
Then click on "Create training records…". This will create records for all of the selected attendees at once. If you want to upload scanned training certificates, you will need to edit each training record.
Viewing Training Records
Training records can be viewed from the 'records' tab in the green toolbar in the training module. You can filter the results to show only records you want and print them as a pdf report. You may also export the training records to a text file.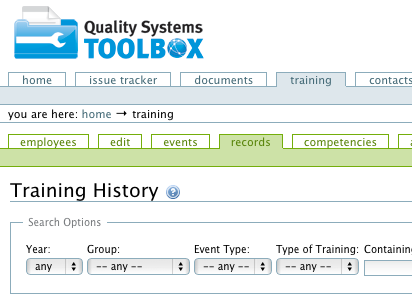 For each employee, you can view their training history by clicking on the 'training records' tab in the green toolbar when you view the employee. Filtering the results and reporting are also available from this view.