Training Overview
This version of Quality Systems Toolbox is no longer in use. Current documentation for v3 is here.
Managing employee training can be challenging even for a moderately sized workforce. You have to keep track of what competencies each employee has, what they need to perform their job, and what competencies might be required by their department or the location they're working at. Not only do all of these things change over time, but some training, like first aid, is only valid for a limited time before re-training is required. Managing all this can become a full-time job. Not managing opens you up to safety problems, quality problems and legal liabilities.
QSToolbox makes this task much easier by bringing all the data together and providing several built-in reports.
The Training Manager in QSToolbox helps you maintain compliance with ISO 9001:2015 clause 7.2 Competence and 7.3 Awareness.
Built-in competency gap analysis and forecasting of expiry dates makes it easy to stay on top of training needs. You can plan training, schedule training events, manage training records and competency assessments.
Use Quality Systems Toolbox to:
Get out of a tight spot – "Fred's just called in sick – who else can operate the stock picker?"
Minimise disruption – "Jill and Jack are going to the first aid refresher next month – who else needs to go?"
Avoid problems – "Has everyone has completed their site induction?"
Plan ahead – "The apprentice is switching projects next week – what training does he need?"
Manage records
Keep all your records in one place and access them from wherever you need them. Upload the certificates or licenses to store the evidence too.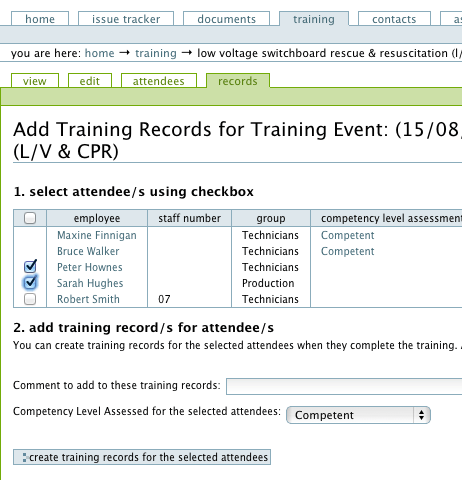 Gap Analysis
Planning for training is much easier with built-in gap analysis to show where there is a mis-match between what is required and what competencies are held.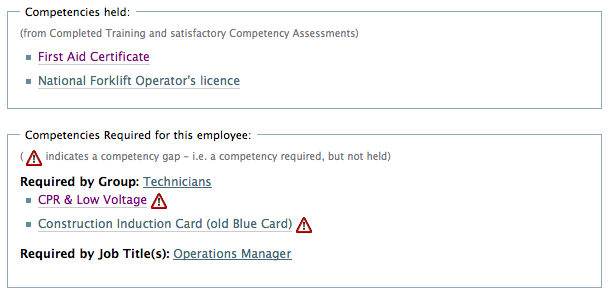 Forecasting of Expiry Dates
Forecasting of expiry dates lets you quickly see what competencies have already expired, and expiry dates coming up in the next 90 days.

This analysis is available for an individual employee, a particular competency, or a group.