Groups
Organising your personnel into groups can help you manage their training requirements.
This version of Quality Systems Toolbox is no longer in use. Current documentation for v3 is here.
A 'Group' represents an organisational unit in your company. It might be something other than the typical 'Department' – for example, a project team, or a location.
You can also define groups to manage your subcontractors, distributors, or any personnel for whom you need to manage training.
A Group can have required competencies. All employees who belong to the group will automatically pickup those required competencies. You might use this for employees posted to a particular location who all must go through the relevant site induction regardless of their job description.
Creating a Group
Go to the Training Manager and choose the 'groups' tab then click on the 'Add Group' button.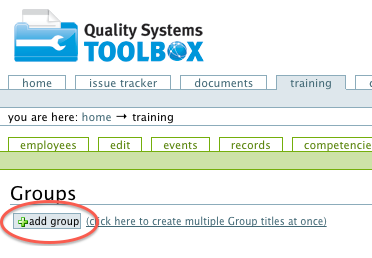 Fill in the basic details – title and a brief description of the group. You can add some free-form text (including links) to expand the description of the group. Perhaps you might describe the function of the department or link to important policy documents related to that department's function.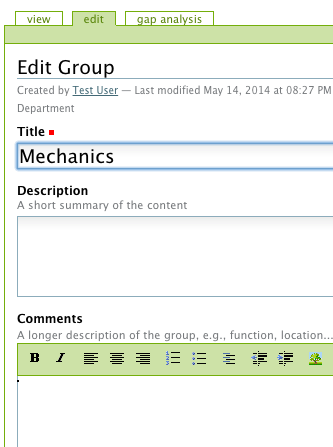 Select employees who belong to this group. This can be faster than editing each employee individually. To select an employee, move them over to the right hand box by double clicking the name, or select and click on the arrows between the boxes.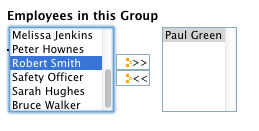 Select any competencies that will be required for all members of this group.

Don't forget to Click 'Save'
Bulk create
A quick way to get started is to add multiple groups at once using the link beside the 'add group' button. To add multiple groups at once, simply list the titles with one per line and click on 'submit'.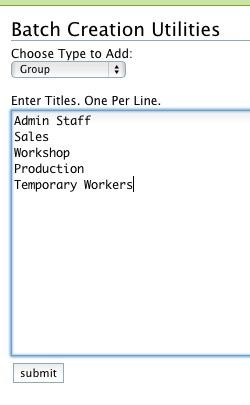 When you submit the list, all of these Groups will be created. You will need to edit each one to fill in the rest of the details.
Viewing a Group
From the 'view' tab you will see all the data you entered for the group, and a list of the employees in the group.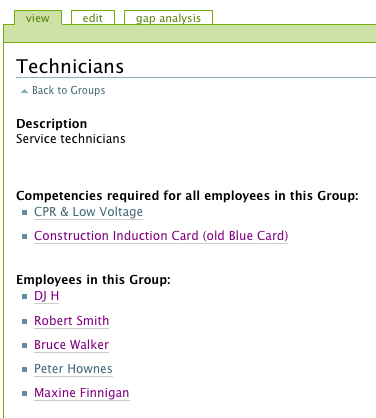 Training Needs Gap Analysis
Choose the 'gap analysis' tab to see what training is required for members of the group and to view upcoming and past due training expiry dates