Employees
Manage training for all personnel, including employees, subcontractors, distributors. How to create an employee record.
This version of Quality Systems Toolbox is no longer in use. Current documentation for v3 is here.
An Employee Record in Quality Systems Toolbox holds business contact information for the employee. All your employees should have an Employee record in Quality Systems Toolbox regardless of whether they will have a user login or not.
With all your employees listed in QSToolbox, you now have a dynamic company directory that is easy to keep up to date.
You can extend the idea of an 'employee' to include other personnel you need to manage training and competency records for, e.g. subcontractors, distributors. You can assign these people to an appropriate Group so that you can list them separately.
Information you enter here will be visible to all members. Confidential personal information should not be entered into Quality Systems Toolbox.
Creating an Employee
Go to the Training Manager tab and click on the button 'Add Employee'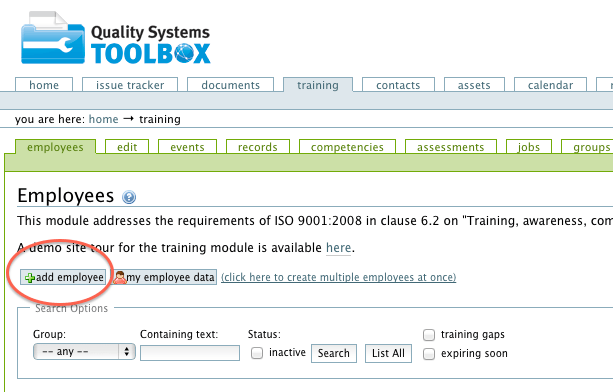 In the first screen you fill in the Employee details – name, email, etc..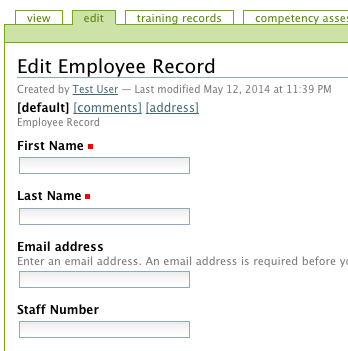 To select a Job Title (or multiple) double click in the left box to move the selected job to the right hand box. You can also click once to select and use the arrow in the middle to move your selection from one side to another.

If you have defined groups (e.g., departments, locations, etc.) you can select the appropriate one here.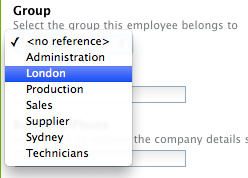 Jobs and groups can both be used to set required competencies for your employees.
If you leave the phone or fax information blank, the values will be acquired from the Company information you entered in the Training Manager.
To make it easy for new employees to find who they need to talk to, upload a small employee portrait by clicking 'Browse.." to find the image on your hard drive. The recommended image size is 75 pixels wide by 100 pixels tall.

Click on 'Next' to continue entering data for the employee. You can click on 'Save' if you are done for now.

On the next page you see a 'comments' field. It is a free-form text field that you can use for whatever notes you wish. (Note that all site users can see this text). You can use it to store emergency contact details so that information is not dependant on HR. You can use it for more social content, like who runs the 'footy pool' or the lunchtime volleyball team.
Click on 'Next' to continue entering data for the employee. You can click on 'Save' if you are done for now.
The third page contains all the address information for the employee. In most cases this will be the same as the company information you entered in the Training Manager and you can leave the fields blank. You only need to enter data here if you want to override the data with a different location (e.g. they work in a branch office).
Click on 'Save'
Creating employees in bulk
A quick way to get started is to add multiple employee records at once using the link. When you add multiple employee records at once, you list one employee name per line, with the firstname and lastname separated by a space. e.g.,
John Merriweather
Maria Knoble
Alex Barnaby
When you submit the list, these Employee records will all be created. You will need to edit each one to fill in the rest of the details.
If you have a lot of employees to add when you are setting up your site for the first time, your employee records can be imported. Importing your employee records will include their other details, not just their name. Talk to your consultant for details or email our support team.
Viewing Employee Data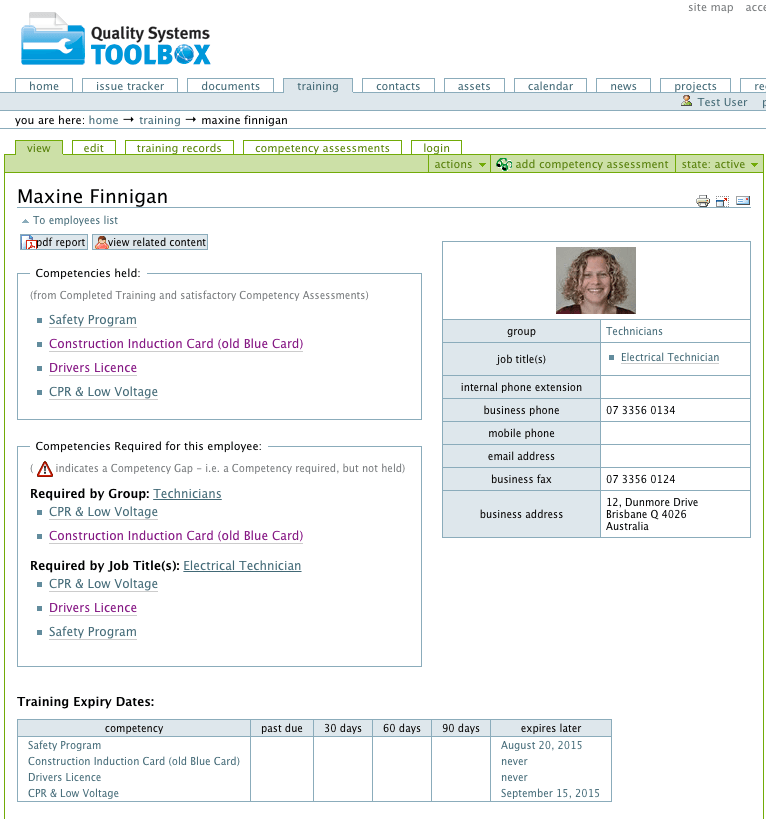 From the 'view' tab of the employee, you can see the employee's contact details and the contents of the free form text field. You can also quickly see what competencies are held and a Gap Analysis on what required competencies are missing. Upcoming and past due expiry dates are also shown.
To see all the training records for this employee, click on the 'training history' tab. To add training records for an employee, you must first create a training event and add them as an attendee.
Competency Assessments are listed under that tab and may be created from here.
If your user login has the 'Manager' role, you will see the 'login' tab and can create a user login for this employee. Users without the 'Manage Users' permission will not see the tab and cannot create user logins.