Competency Assessment
This version of Quality Systems Toolbox is no longer in use. Current documentation for v3 is here.
Use a "Competency Assessment" to record previous training, e.g. licenses, tickets, etc., where the date of the training does not need to appear in the calendar. A scanned copy of the license can be stored with the assessment. Competency Assessments can also be used to record on-the-job training and performance assessments.
Creating a Competency Assessment
Go to the Training Manager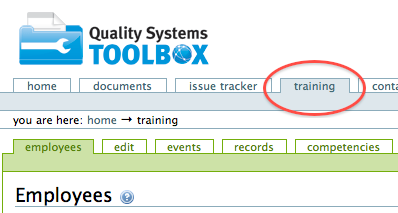 Select or find the Employee you want to assess. From the employee view, click on the tab "Competency Assessments"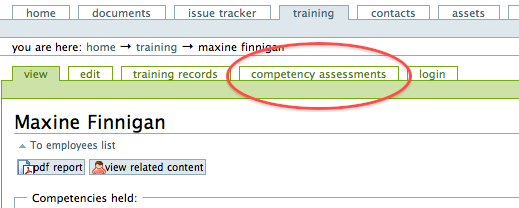 Click on the button "add assessment".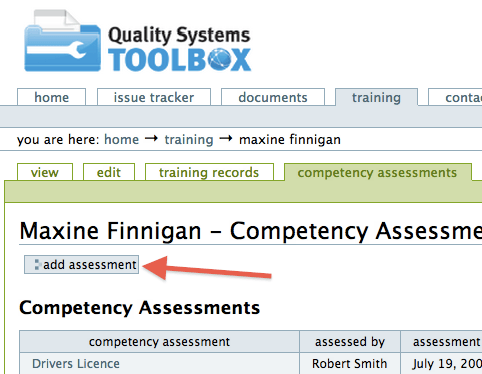 Start typing the name of the Employee for the Assessed By field. The field will start filtering the list of people dynamically as you type – within a few keystrokes you will probably see the person in the list shown below the field. You can then select the correct name by clicking or by using the arrow keys and the Tab or Return buttons. Note that this is one of the record types assigned to Employees, and not Users.
The Assessment Date will default to today's date. Change it as necessary to the date the assessment was performed.
The Expiry Date makes it easy to track when training is no longer valid, or must be refreshed. For training that does not expire, just leave it blank.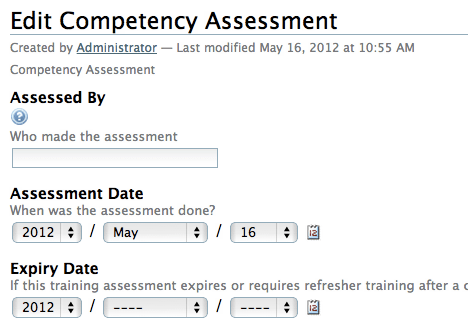 Choose which competency you want to assess.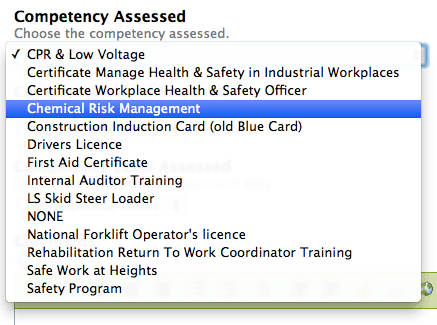 Select the competency level required, and select the competency level assessed. (Your site administrator can customise the labels for these levels). If the level assessed is equal to or greater than the level required, the competency will be listed as 'held' by the employee. If the level assessed is less than the level required, you should plan further training.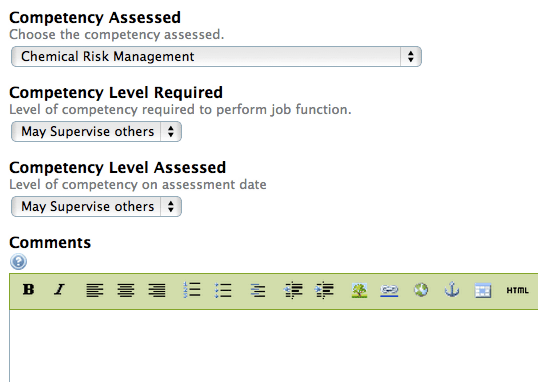 Use the comments to record the details of the assessment. This can be the outline of the course, the certificate or license number, etc. This field supports wiki-linking .
You can store an Attached File with the Competency Assessment record. This is commonly used for a scanned copy of the license or certificate. Click on "choose file" to browse to the file on your hard drive.

Finally, click "save".
View Competency Assessments
You can view all of the assessments for a single employee: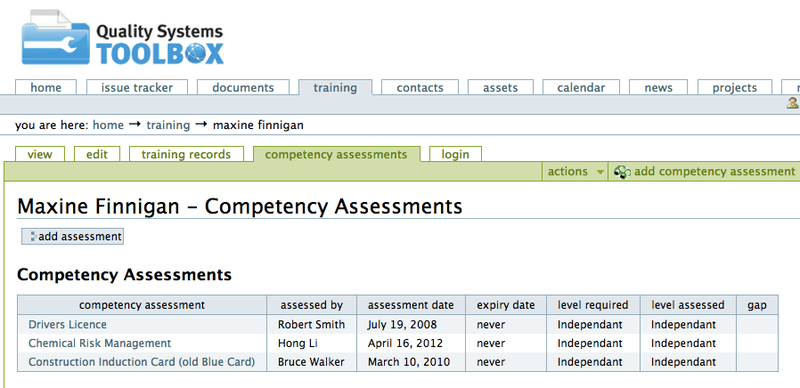 Or at the top level of the training manager, under the "Assessments" tab for the training manager, you can access ass competency assessments for all employees and filter the search results as you wish.

Competency Gap Analysis
In Quality Systems Toolbox, an employee is considered to hold a competency if the Competency Assessment was satisfactory.

The competencies held are compared to the competencies required (defined in the job description) for built-in Gap Analysis: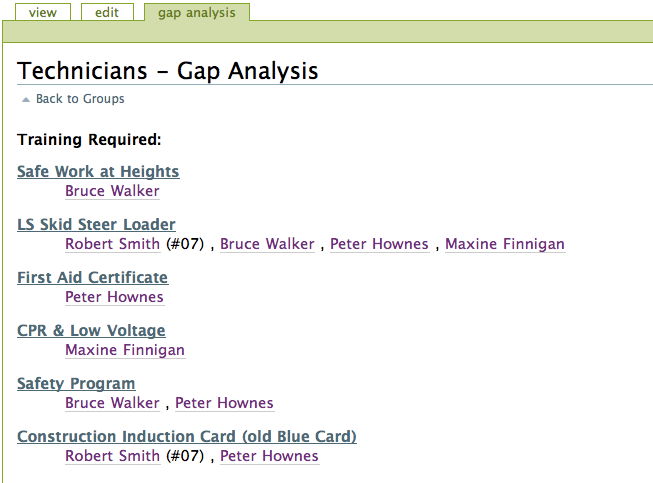 Expiry dates stored with each competency assessment are tracked and reported: