Competencies
What is a competency, why define them, how they are used, and how to create one in QSToolbox.
This version of Quality Systems Toolbox is no longer in use. Current documentation for v3 is here.
A competency can be a skill or a qualification. A license, certificate, or 'ticket' can be considered a competency.
Most jobs require certain competencies in order to perform particular functions.
Skills and knowledge can be acquired through formal training, on-the-job mentoring, or life experience gained over time. From time to time these skills need to be assessed and recognised so that organisations can determine their on-going training needs. Use a competency assessment to record this in QSToolbox.
Most job descriptions include 'statements of competency' which describe the skills, knowledge, or behaviors required in the performance of the day to day work activities.
Examples of competency statements:
Must be able to use MS Excel to develop spreadsheets / reports
Licenced Forklift Operator
Must be a trade qualified Electrical Fitter (Qld)
Certificate III in Hospitality
Able to converse fluently in Mandarin
Apart from selection criteria in job advertisements, statements of competency can be used for:
Identifying training and development needs of individuals;
Providing feedback through the performance management process; and
Identifying individuals with particular skills for promotion opportunities
When creating Job Descriptions ensure that you identify all the necessary competencies required to satisfy current organisational needs. This will make it easier for you to identify areas of "skill / competency" shortages and allow you to focus your training needs.
Creating a Competency
Go to the Training Manager and choose the Competencies tab then click on the 'Add competency" button.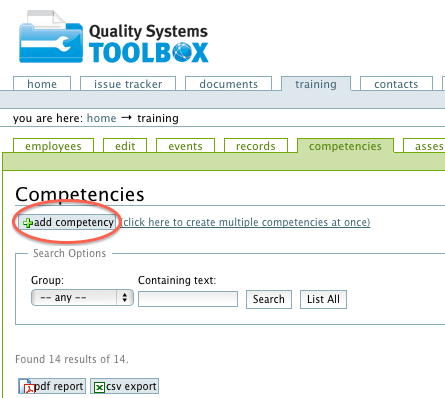 Fill in the basic details – title and a brief description to clarify what the competency is.
You can link to training providers stored in the Contacts Module to make it easy to find the training provider when it is time to schedule training. (e.g. St John Ambulance provides training for the 'First Aid Certificate' competency). You may have multiple trainers for the same competency. Select the contact by moving it across to the right hand box. Either double-click the name or select it and use the arrows in between the two boxes.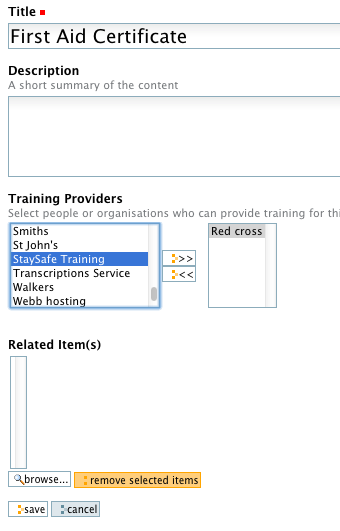 Use the 'Related Items' field to link to any related content in QSToolbox. You might use this to link to an important procedure that relates to this competency.
Bulk create
A quick way to get started is to add multiple competencies at once using the link. When you add multiple competencies at once, you list the competency titles – one per line. e.g.,
Reading
Writing
Arithmetic
When you submit the list, these Competency Titles will all be created. You will need to edit each one to fill in the rest of the details.
Required Competencies
You assign competency requirements to Job Descriptions and Groups. When you assign an employee to a job or group, they automatically pick up those requirements. If they change group, or job, or the job requirements are updated, the employee requirements get updated automatically.
Competencies Held
Employees hold a competency through a competency assessment or training records. These remain with the employee, regardless of the job they hold or the group they are in. These records are maintained even when the employee leaves and becomes 'inactive'.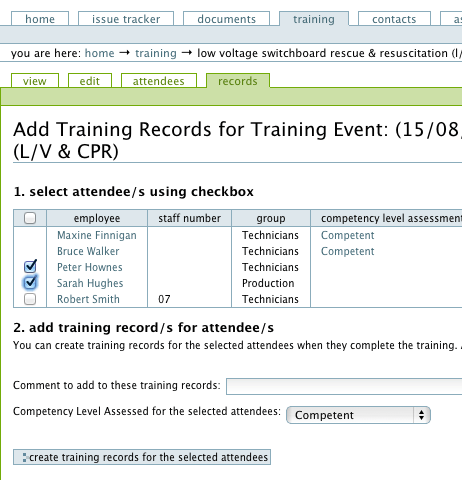 A competency is longer 'held' when it has expired.
Viewing a Competency
The competency view collates a lot of data in QSToolbox related to that competency. You can see which groups and jobs require the competency, view training providers, and see events (past and future) that cover this competency.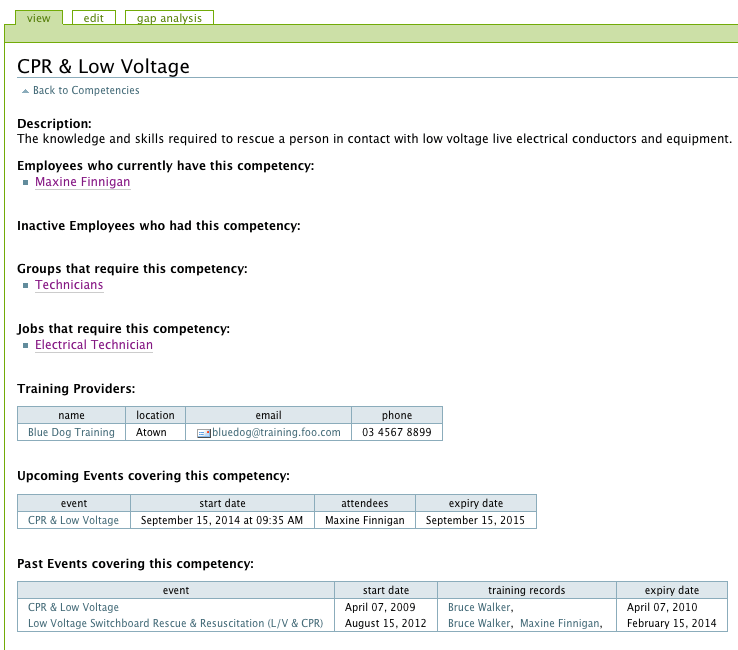 Training Needs Gap Analysis
To easily plan for training use the 'gap analysis' tab to see who requires training in this competency, and what training will expire in the next 90 days.