When an employee leaves
This version of Quality Systems Toolbox is no longer in use. Current documentation for v3 is here.
What should you do in QSToolbox when one of your employees leaves?
You can hide them from your list of employees while still retaining their records by changing their state to "inactive". Look for the workflow drop-down menu at the far right of the green toolbar.

You will also want to remove their login access to QSToolbox (use the 'login' tab on the employee record). See Delete a User.
BUT WAIT!
if you delete their user you will lose the links between the user and the documents they edit, their issues, and any calibration/maintenance schedules they are responsible for. In some cases that's OK, but in other cases you'll want to transfer their responsibilities to the new employee.
To do that, use the Transfer Content utility to re-assign their documents and issues to the new employee. You can also reassign any assets with this utility.
If there is no new employee yet
… and you don't want to assign everything to an existing employee, there's a temporary solution to remove access without deleting the user.
First go to Manage Users and change the email address of the old user to an account they do not have access to. You will need to have access to this email account. It doesn't matter if the email address is the same as another user. Save the changes.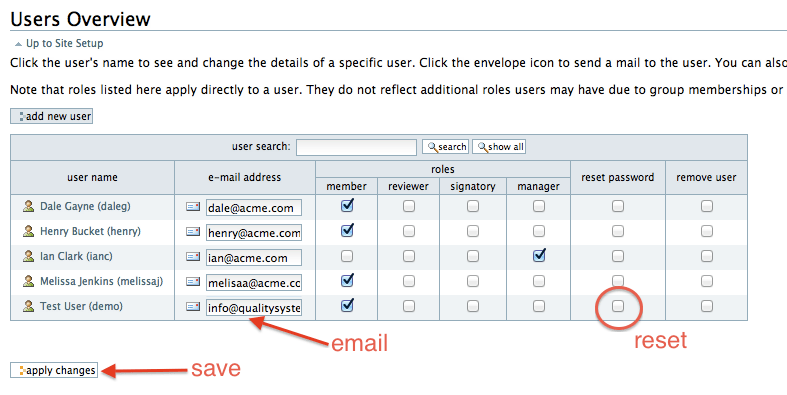 Then check the box "reset password" and save the changes again. An email containing a reset password link will be sent to the new email address. Follow this link to change the password.
Now, the old employee can not login with their old password, and cannot reset the password.
Once the new employee is on board you can use Transfer Content, and then remove the old user account.