Manager Role
This version of Quality Systems Toolbox is no longer in use. Current documentation for v3 is here.
Users with the 'manager' role in Quality Systems Toolbox can view and edit all content in the site regardless of it's workflow state.
In the document manager, this means that manager users can see all documents in the draft and pending states, while other users can only see released documents and documents they created or were made the 'owner' of.
A user may have the 'Manager' role set globally (for the whole site) or just locally (for a particular module).
Whole-site Manager
The contact person you designate as 'Site Administrator' will be created as a site-level global manager. Only global managers will be able to add and delete users.
WARNING: Site-level global managers can delete whole modules (top level tabs) and all their contents.
We recommend that you designate a minimum number of trusted and competent users to be global managers and make the rest local managers only.
To make a global manager, follow the instructions to Manage Users and check the 'manager' role. You should uncheck the 'member' role. Click on "apply changes".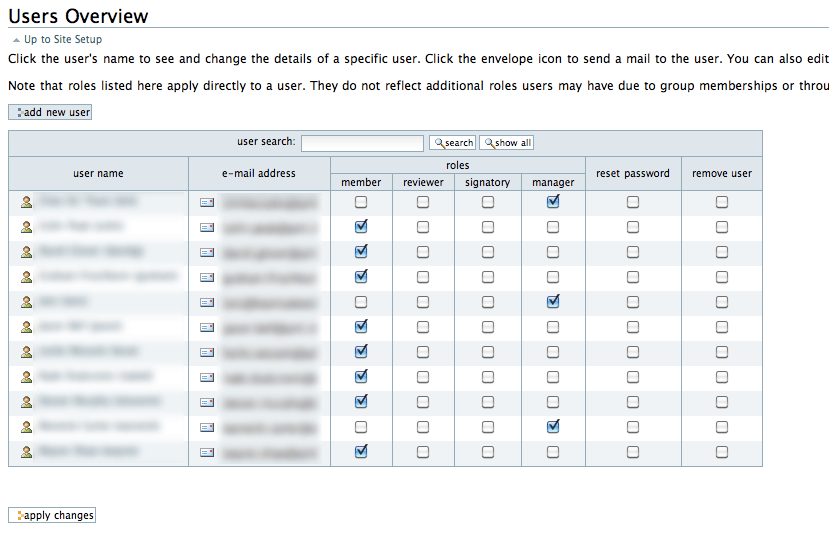 Local Manager
A user can also be assigned the manager role just for a particular module, using the sharing tab in the green toolbar. You must be a manager in order to assign the manager role.
In the documents folder shown below, the admin user is a global manager and has inherited the owner role. The demo user is also a global manager. The user 'liza' has been assigned the manager role locally, just for the documents folder.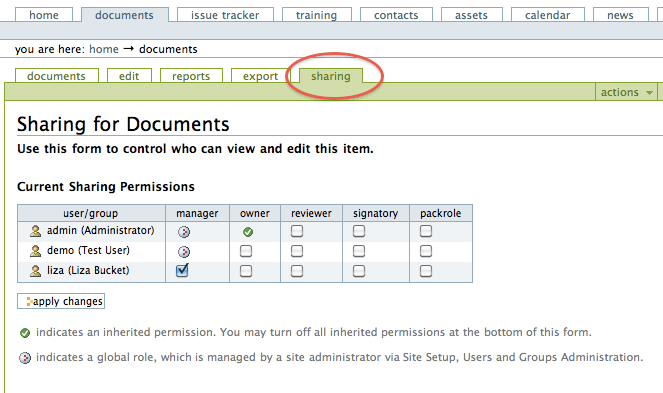 To assign a role locally, use the next part of the form on this sharing tab.
Check the box under 'manager' for the user you want to assign the manager role to, and click on 'add new permissions'.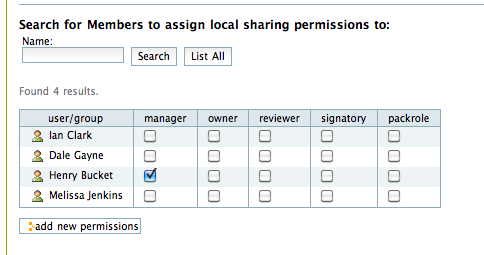 Liza and Henry, as local managers, now have full control over the contents of the document manager, and can edit the header text, but they cannot delete the whole documents module.
The last part of the form about "inherit permissions' is not used at module level, but can be used to remove local manager permissions for individual items – e.g. you could keep a draft document hidden from local managers by checking this box on the sharing tab for that document.