Manage Users
This version of Quality Systems Toolbox is no longer in use. Current documentation for v3 is here.
Site Admins (users with the 'Manager' role) can manage users. This includes adding and removing users, and resetting passwords.
To view all users of the site, first go to "Site Setup"

From the list of options choose "Users and Groups Administration"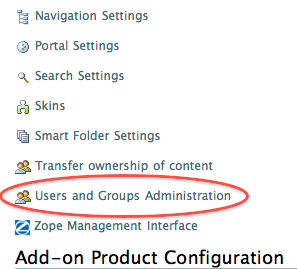 Users should have either the 'member' or 'manager' role checked. To restrict access only to view released documents, check "readonly".
Make any changes you need using the checkboxes. When you are finished, click the "apply changes" button at the bottom.
While it is possible to add users via this screen, we advise against it. It is better to go to the Training tab and add the user as an employee first as shown here. Then use the login tab for that employee to create a user for them. This creates a link between the employee record and the user.
If you need to add a user that is not an employee (e.g. a business consultant, temporary access for an auditor) then it is fine to do it here.