Creating a Page
This version of Quality Systems Toolbox is no longer in use. Current documentation for v3 is here.
When you use a 'Page', the content can be viewed online, without needing to download a file. This can be really useful if you will access content from mobile devices, where firing up the original application (e.g. Word or Visio) to view the content is a nuisance. The formatting options are more limited, so a 'Page' may not be suitable for more complex content.
Go to the Document Manager and click on the 'Add Page' button.

This will open up the edit form. Most of the fields are the same as creating a 'Document' and we won't repeat it here. The difference is that you have a large 'rich text' field to enter your content.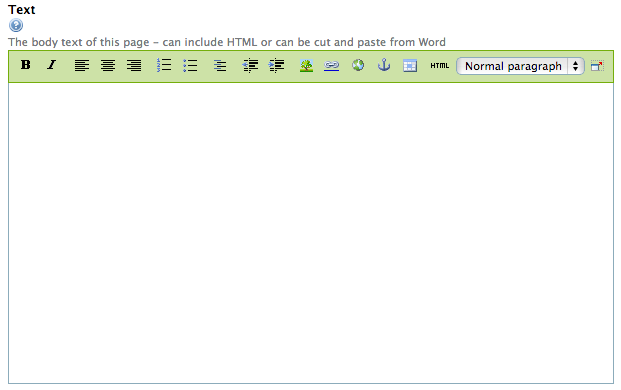 The top toolbar presents a fairly familiar interface for creating a text based document. Hover your mouse over any of the buttons to get a 'tooltip' on what they do. Here's a few you should know about:

Over on the far right, this button expands the editing area to the whole browser window. This stops you scrolling beyond the edit area and start scrolling the page (drives me nuts) and allows you to concentrate on the content.

This lets you embed images in your content. You can select an image already in your site or upload an image from your hard drive.

Create a link to content within your QSToolbox site. You can use this to refer to other documents (e.g. a form that goes with the procedure), a relevant asset, an expert to talk to, etc.

Create a link to a website outside your QSToolbox site. You can use this to reference external documents that may be published elsewhere, e.g. Codes of Practice, User Manuals, etc.
You can also upload images in a separate field. These images will be listed on the page and you can click on them to see the full size image. You would use this option if you wanted to refer to the images in the text without embedding them within the content.

You may also upload files. Use this for supporting documents only – e.g. a scan of attendance signatures, a reference document, initial hand-drawn notes, etc.. Do not upload the actual content as a file here. You should use the 'Document' type for that case.