Build a Graphical Interface with a Page
You can build your own custom graphical interface into your management system using a combination of images and links in a 'Page'.
This version of Quality Systems Toolbox is no longer in use. Current documentation for v3 is here.
For some users, navigating the standard view into your Management System will be a little daunting. Building a custom graphical interface may encourage hesitant users to participate in the quality/safety/environmental management system.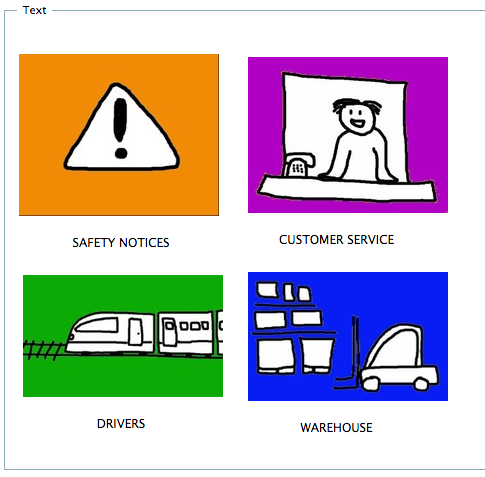 Each image is a link and to navigate through the system, users simply click on the image (or tap it on their tablet or smart phone). This may take them to another Page with a pictorial menu, or simply a list of the relevant documents. Each item in the following example links to the actual document in QSToolbox.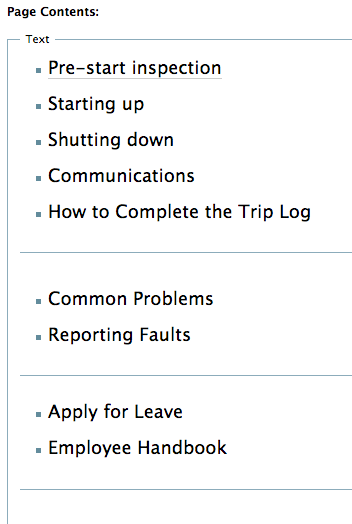 To create a graphical menu for your own site, first go to the Document Manager and click on the 'Add Page' button.
Fill in the fields as we covered in creating a 'Document'.
The content will go into the 'Text' field. If you haven't tried to add images to a Page before, follow these instructions to add your menu images.
It's a good idea to include a text label for your menu item if your image doesn't include it. The meaning of an image may be obvious to you, but it might not be for someone else.
To turn the image into a link, you need to first select it. Place the cursor to one side of the image, click and hold the mouse button, and drag across to the other side before releasing the mouse button (exactly the same as selecting some text).
If you have selected the image correctly, it will change colour like the right-hand images below. (The image is highlighted – just like when you select text.)

changes to :

Then click on the "Internal Link" button (it looks like a chain).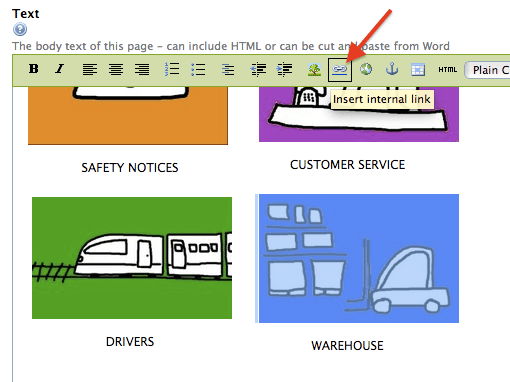 Browse or search to find the document you want to link to. Select it and click on OK.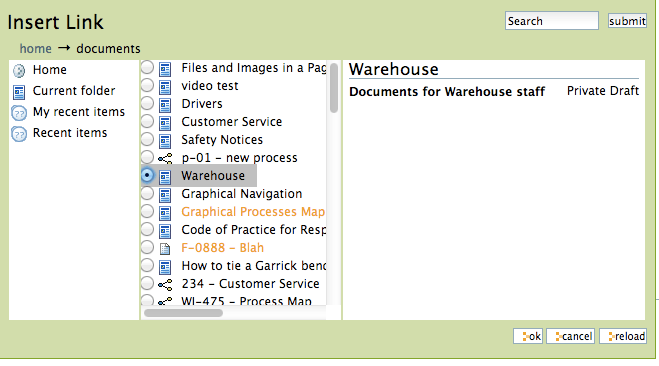 Once you save the Page, that image will now function as a link.
With a bunch of images linked to Pages in your site, you now have your custom graphical interface. (Don't forget to release it so your users can see it!)
Remember that you will have to maintain these custom navigation pages manually. If you add more documents that "Warehouse" needs to know about, you'll need to to manually add it to that menu page. However, you don't need to update the links if a document gets revised, since you'll always reach the latest version.
TIP: Create a bookmark directly to your new graphical homepage, or set it as the default home page of the browser to make it super easy to access your management system.