Meetings
This version of Quality Systems Toolbox is no longer in use. Current documentation for v3 is here.
Quality Systems Toolbox includes a meeting module you can use to schedule and plan your meetings.
(Note: Safety Toolbox Meetings (and other meetings held for training or building awareness), for which you need to create training records, should be entered into QSToolbox as "Training Events".)
During the meeting you can take minutes and create and assign action items or tasks, directly into QST.
If that's not feasible for your meeting, you can print out the agenda as a form for written notes, and upload the scanned notes later. To keep track of any action items identified in the meeting you'll need to create them as tasks in QST.
With the meeting and tasks in Quality Systems Toolbox it's easy to review what happened last time and if you missed the meeting it's easy to catch up.
How often do your meeting minutes get lost or buried and never written up and sent to attendees? It's a key recommendation for effective meetings, but once it's all over, the motivation for writing up the minutes dissipates very quickly. Just do it now in Quality Systems Toolbox.
Add a meeting
Start by going to the calendar tab at the top.

Click on the meetings tab.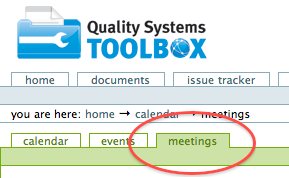 Click on the "add meeting" button.

Fill in the meeting details, dates and add attendees.
Use the description field to tell attendees the objective(s) of the meeting.
You can add file attachments, link to related items, and enter a rich text event announcement that can include links to internal or external content.
Save.
The meeting will now be visible in the central calendar.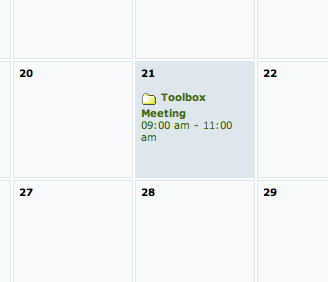 Add an Agenda
To add agenda items: click "add agenda items", fill in "describe agenda items" and click "Add".

Reorder them as you like using the up/down triangles.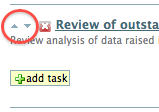 Click on the agenda item title to add further description or to link to related content in QST.
Management Review Agenda
QST comes preloaded with the agenda for a management review meeting. Create a new meeting with no agenda items. Click on "add agenda item" and then click on the link "Management Review" link to get all the agenda items added automatically. Then add and edit as needed.

Copy Another Meeting
If you have another kind of recurrent meeting where the agenda is much the same from meeting to meeting, to save time you can copy and paste the old meeting and edit the dates.
First go to the meeting you want to copy, and using the 'actions' menu in the top right of the green bar, choose 'copy'.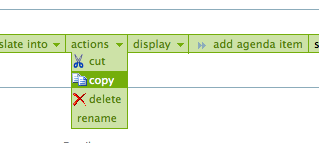 Go back up to the meetings front page using the 'breadcrumbs' trail or the link 'back to Meetings Overview'.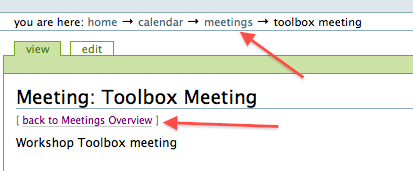 Use the same 'actions' menu to 'paste' the meeting. You'll need to edit the dates and agenda items and to delete any tasks that came along.
Upload files
You can upload files to the meeting. This might be a document you need to discuss, or the scanned attendance sign-in sheet. Or if you kept (legible!) hand-written notes, you can scan and upload that. Just edit the meeting itself and choose to upload an attachment.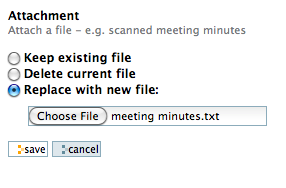 Send a reminder
It's easy to send an email reminder to all the attendees. The email includes a link back to QSToolbox so they can view the agenda online or get the pdf report.

Take Notes
You can use QSToolbox to record the meeting minutes. Under each agenda item, replace any description text you had with notes for that agenda item. Make sure you record any decisions that were made, and brief notes on what was considered in coming to that decision.
Assign Tasks
As tasks or action items come up during the meeting, assign them on the go by adding a task under the relevant agenda item. The task will appear on the assigned person's worklist in QSToolbox. As you add each task you also have the option of sending an immediate email notification.