Delete an item
This version of Quality Systems Toolbox is no longer in use. Current documentation for v3 is here.
You can delete an item from Quality Systems Toolbox (if you are an Owner or Manager), however in some cases you may need to archive the document instead.
Some old documents should be maintained in the system for a period of time, even if they are no longer current. In this case, change the review state of an old document to "Superceded" to archive it. Only Managers will be able to access it.
To delete an item and remove it from Quality Systems Toolbox completely (including it's version history), go to the 'actions' menu and choose delete. You will be asked to confirm that this is what you really want to do, before the item is actually deleted.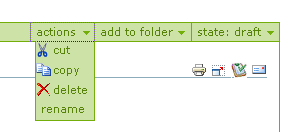 If you delete something in error, you MAY be able to use the undo feature to re-instate it. This generally only works well if you undo the action soon after you make the mistake.