Documents with expiry dates
This version of Quality Systems Toolbox is no longer in use. Current documentation for v3 is here.
Some documents have expiry dates that you need to keep track of – e.g. insurance renewals, certifications, licences etc.
Quality Systems Toolbox has a few ways to do this.
For employee competency or training related expiry dates, add a competency assessment or a training record for the relevant employee and note the expiry date. You can upload a scan of the training certificate or licence into the record. The gap analysis and expiry date forecasting available in the training module will show when that competency is going to expire.
For asset related expiry dates, like vehicle insurance, add an asset schedule with the expiry/renewal date as the schedule date.
For other documents, e.g. standards certification, public liability insurance, trade licences, tender documents, contracts, you can create a related event and the calendar will show any upcoming expiry dates. To make it easy to report on all the expiry dates, select "expiry" as the event type (you may need to first add it to the list of types).
Let's go through this in detail with an example – your ISO 9001 certification.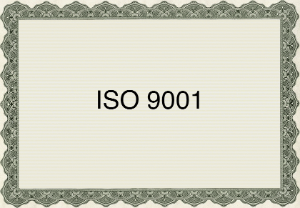 First we scan and upload the ISO 9001 certificate into the document manager using "add a document" and fill in the details.

Go to the calendar tab and choose events, "add an event".

Enter the expiry date as the event date.
Add anyone that needs to take action on this expiry date to the list of attendees.

This will make sure that it appears on their worklist when they login to QSToolbox.

Choose event type = "Expiry Date".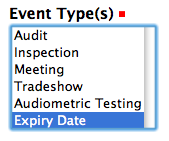 For the Contact name you can choose your management system representative, your ISO 9001 consultant, or even your auditors – your choice. These could alternatively be added as links within the event description, or as related items.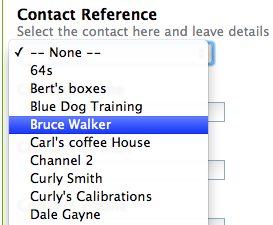 Make sure that you add the document as a related item. When you view the document you will see the related event, and vice versa.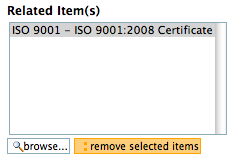 When you look in the calendar (at the appropriate month) you'll see the upcoming expiry date.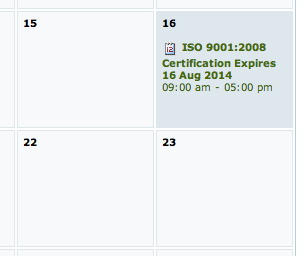 To report on all expiry dates, go to calendar, events tab. Choose the time frame you want to see and select "expiry dates" as the event type. You'll get a list of all the expiry date events that you've added.

Click on the event of interest and then go straight the the relevant document via the link.
easy!