Document Control Overview
This version of Quality Systems Toolbox is no longer in use. Current documentation for v3 is here.

Your documents are important. They contain information about how things are done in your organisation. Everyone needs to be "working off the same page" or you will send confusing mixed messages to your clients, suppliers and even your own staff.
Quality Systems Toolbox provides a document manager to contain your documents in a truly central place. It is easy to see which version is current. It is easy to find the document you need. Best of all, it is easy to access.
Use the document manager for your procedures, policies, meeting minutes, company memo's, design documents, drawings, anything you need to control. You can also use it for some records (e.g. in an Excel spreadsheet) if they don't fit in another Quality Systems Toolbox module.
There are several ways to store your documents:

Add a 'Document' if you want to store a file. It may be a Word file, a Visio file a CAD file – it's up to you. The file will be stored as-is in Quality Systems Toolbox. In order to view a document it must be downloaded first. Editing is done with the original application that created the file, on your local computer, then uploaded back to Quality Systems Toolbox with full version control.
Add a 'Page' to manage your text based documents directly online. In contrast to a Document, you don't need to download a Page in order to view it, and it can be edited in place with the built-in wysiwyg (what you see is what you get) editor, which gives you formatting options and tables. Pages are ideal for meeting minutes, memos, policy statements and other mostly text content.
Audit Reports are a special kind of document that are also stored in the Document Manager. Some of the Audit Report is edited in place like a Page, and you can also store a file like a Document.
Add a Process Map to create a diagram directly in Quality Systems Toolbox rather than using an external application. Like a Page, the diagram will be visible in QST without having to download the file first.
Documents Register
This is maintained automatically in Quality Systems Toolbox since the front table of the Documents Module is the documents register. It can be printed out as a pdf, if necessary. You can use the search options to print a register of a subset of documents – e.g. 'Forms', or maybe all documents owned by 'Fred'
Organise
You can assign your documents to different 'categories' (like 'folders' or 'tags'). A single document can be assigned to multiple folders. This groups similar documents and helps you find the document(s) you need later. The list of folders can be changed to fit your specific needs.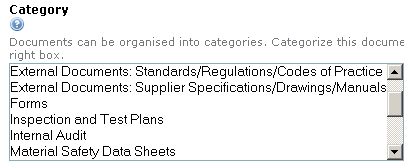 Search
Use the search options at the front of the Documents module to quickly find the document you need. You can filter the list of documents by folder, by review state and/or by owner to get a short list of the documents you need.
You can also search for specific text within the documents module to find the document you are looking for. This search option will search for the matching text throughout the document – not just the title, to find a match. The document number, title, description and in some cases the entire document contents are searched. (MS Word, Excel, and other text based documents allow the contents to be searched. Documents that are not stored as text, e.g. Visio files, cannot be indexed. In these cases, use the description field to describe the contents. )
You can also search for your document with the global search at the top right. Your results will include all content in your site that relates to the text you enter.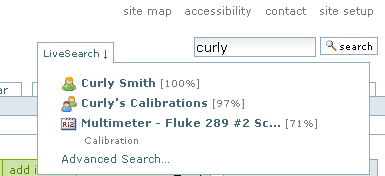 Workflow
Documents progress through a workflow and the permissions change with the status of the document. Documents begin as a 'draft' and are only visible to the creator of the document and any users assigned the 'manager' role. When documents are finally 'released' they are visible to all users of Quality Systems Toolbox (but can still only be edited by the 'owner' of the document and 'manager' users).
Notifications
When a new document is added, or an existing one is edited, notifications are sent out by email to users that subscribe to the document. The owner (editor) of the document is automatically subscribed, but anyone who needs to be kept up-to-date with changes can be added as a subscriber.
Versioning
An important part of document control is the control of changes to the document. Controlled documents typically have a table at the front detailing the change history. This is built-in to Quality Systems Toolbox. Whenever you save a change to a document (the file or the information about it) you actually save a new version of the document. A version comment describing the change is required each time you save. Old versions of your document are retained within the system and can be accessed. If the changes need to be 'rolled-back', you can revert to a previous version.
You can see the version history of a document you are viewing using the 'versions' tab in the green toolbar.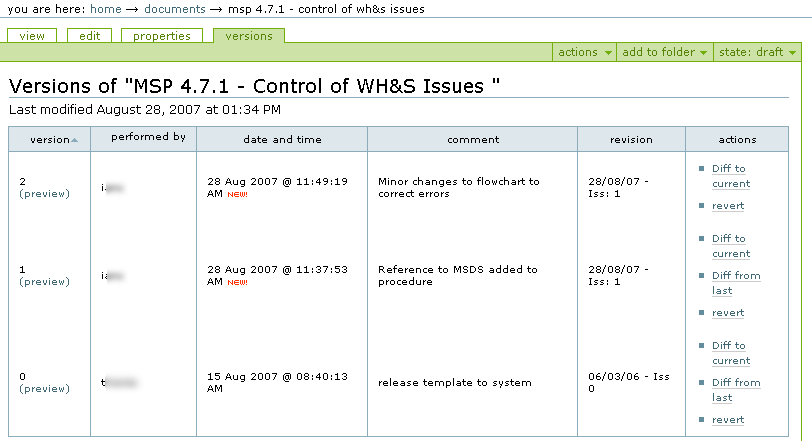 From the front page of the documents module, you can check the box 'include version history?' to see the version history for all the documents in the list. (Be aware that this can be slow for large numbers of documents)
Reports
From the top level of the Documents Manager, you can print out the front table as a pdf Document Register. From the 'reports' tab in the green toolbar you can access other reports, e.g., list documents with old revision dates, documents awaiting approval.
Links between Documents and other modules
Documents can link to any other content in Quality Systems Toolbox. With the 'Page' and 'Audit Report' types, links can be included in the body text of the page. For the Documents and Process Maps, links are made via a 'related items' field.
You might want to link to an Asset from the relevant Work Instruction. Documents can link to each other, e.g. one process might link to the next process, or a you might have a Procedure link to the appropriate form.
In the case of the Issue Tracker, there is a specific link between the modules for Document change requests, where the issue links back to the document. Documents with an open Change Request Issue will be flagged in the front Documents table and when you view the document itself, any open issues will be listed.

More information
For some practical guidance on what you need to do, have a look at 'Document Control' in our resources section.