Supplier Evaluation
This version of Quality Systems Toolbox is no longer in use. Current documentation for v3 is here.
Supplier Evaluations can be performed in the Contacts module of Quality Systems Toolbox. It integrates with the issue tracker when you need to document an issue with a supplier. You can read more about managing suppliers here.
At the top level of the contacts module you can see the 'Supplier Evaluations' tab:

Evaluations are performed via a simple online form: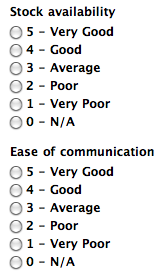 Completed forms are collected in a results table, with unsatisfactory scores highlighted in red: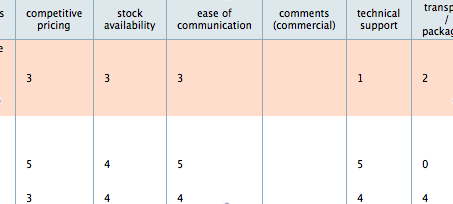 Rating for "acceptable" suppliers must be greater than 2.5. If rating is less than or equal to 2.5 and you wish to continue using this supplier then supplier development / training may need to be undertaken to educate the supplier and correct deficiencies.
The contacts register on the front page of the contacts module highlights approved suppliers in green. Suppliers that have not been assessed, or whose last assessment was unsatisfactory will be highlighted in red.

The red flag helps you quickly see suppliers with an open issue, and you can go to the Issue Tracker to list all supplier issues.