Managing Contacts
This version of Quality Systems Toolbox is no longer in use. Current documentation for v3 is here.
The Contacts module is where you store your quality related contacts.These could include your suppliers, training providers, major clients, sub-contractors. Storing the details in Quality Systems Toolbox makes them easy to find, and saves you data entry since you can link to these contacts from other content types within this system, e.g. events, training records, calibration schedules, maintenance records, supplier issues, customer complaints, documents, and more.
You enter your contact as a Person or an Organisation. The data stored for each type is slightly different.

The different types can be linked if you have several different contact people within an organisation, so that you only need to enter the data that's different for each person.
Categories
Contacts can be organised into different categories. Typical categories might include training providers, suppliers, customers, distributors, subcontractors. You can change the category choices to fit your specific needs.

Searching
Use the Search options on the front page of the contacts module to quickly find the contact details you need. You can filter the list of contacts by type and/or by category to get a short list of the contacts you need. You can also search for specific text within the contacts module to find the contact you are looking for. The matching text could be in the contact's name or the notes section.
You can also search for your contact with the global search at the top right.

Your results will include all content in your site that relates to the text you entered. You might see an organisation – 'Curly's Calibrations Pty Ltd', a person – Mr Curly himself, and an Asset Schedule in the Assets module for a regular calibration outsourced to the company.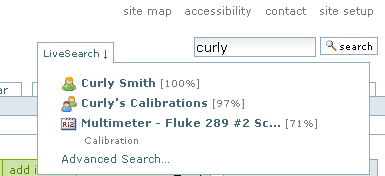 Supplier Evaluation
Supplier Evaluations can be performed within the contacts module. Look for the tab in the green toolbar when you're in Contacts. There's a built in form to rate suppliers and keep records of their performance. On the front contacts table, suppliers that are are unrated, or their last evaluation was below a certain rating, will be highlighted in red. (more…)
Links between Contacts and other modules
Contacts stored in Quality Systems Toolbox link to the other content types.
Assets: Asset Schedules and Records link to a contact for calibration, testing or maintenance work performed.
Issues: Customer complaints and Supplier issues in the Tracker link back to the relevant contact. If you view the contact, it's easy to see what issues have been raised against them, and the status of those issues. Contacts with open issues will have a red flag next to their name in the front table.
Training: Events and Training Records link back to external training providers stored in the Contacts module. You can also link to training providers from a competency.
Documents: can reference any other content including contacts. e.g A work instruction could contain multiple links to other documents, an asset, an asset schedule, employees, and contacts.