Planning the Audit
This version of Quality Systems Toolbox is no longer in use. Current documentation for v3 is here.
When you are planning for an upcoming Audit, add an Audit report to the Document Manager.
You won't be ready to upload the completed Audit Report yet, but you can use this document to link to your Audit documents e.g. checklists, process documentation.
Fill in the information for the Audit:
Reference Number: This depends on the convention used in your organisation, e.g. the first audit for 2011 = 2011/1, or an audit in July = 2011/7.
Auditee: Who owns the process or department to be audited. Although there may be several people who will be audited, the person you choose here should be a system user and will need to acknowledge the audit findings to 'sign off' on the final report.
Department / Function / Process: Which department or process will be audited. e.g. Sales, Order picking and packing, Production
Audit Scope: What will you be auditing against (criteria), and how far will you cover? You might audit against ISO 9001 requirements, industry regulations, contractual requirements, your own process documentation. Scope might be "from initial enquiry to job card" or "from initial order to delivery to customer".
You can link to other system content in the 'Related Audit Documents' field, e.g. an Audit Checklist, the Process documentation, or perhaps a series of issues in the Issue Tracker that have arisen from this process.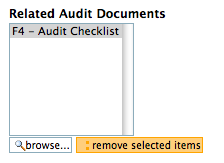 The Lead Auditor will be the document owner and be granted edit and delete privileges for the Audit report. For an external audit report, you can choose the management system representative.
Add any Other Auditors if there will be more than one auditor.
Select Audit Type (Internal or External).
You can fill in the Planned Audit Date now, and complete the Actual Date as you prepare the report.
Select all Personnel contacted during the audit by double clicking names in the left box to move them into the right box. You can fill in who you plan to talk to now, and edit it to reflect who was actually contacted when you upload the final report.
Leave the Audit Summary and the Audit Report File field empty for now. You will fill these in once the Audit Report has been completed.
Leave Date Closed blank.
As with all documents in the Document Manager, you can keep track of Hard Copy Locations(s), enter a R*evision number* and/or Revision Date, and enter a Version Comment as you update the document.
Save.
The Audit report will stay as a 'draft' until it is completed.