Audit Findings
This version of Quality Systems Toolbox is no longer in use. Current documentation for v3 is here.
As you perform the audit, or later as you prepare the report, you can create Audit Findings that are linked to the Audit Report by using the "add audit finding" button on the Audit Report view.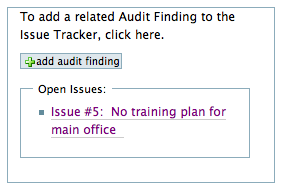 Audit findings can be assigned a category depending on the severity of the finding.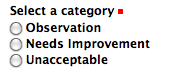 You can easily see the status of the Audit with all open and closed audit findings visible on the Audit Report view.
When all the Audit Findings are 'verified and closed' the Audit Report will also be 'closed'.