Add an Asset
Adding a new asset to QSToolbox
This version of Quality Systems Toolbox is no longer in use. Current documentation for v3 is here.
Add an Asset to QSToolbox to store details about the equipment, create schedules to maintain it and to have a place to keep all of the associated records in a way that makes them easy to access.
Assets usually include test & measuring equipment, plant, vehicles, safety equipment, processing equipment. All the things that have an impact on the quality of your product or service.
You don't need to keep a list of every single item the business owns in QST (monitors, keyboards, printers, etc). However, you can still manage the electrical safety testing these appliances in QST.
To add a new (or existing) piece of equipment to QSToolbox, go to the top level blue "Assets" tab and look for the "Add asset" button. If you don't have any assets yet, this may look a little different (no search options), but you'll still be able to find the 'add' button.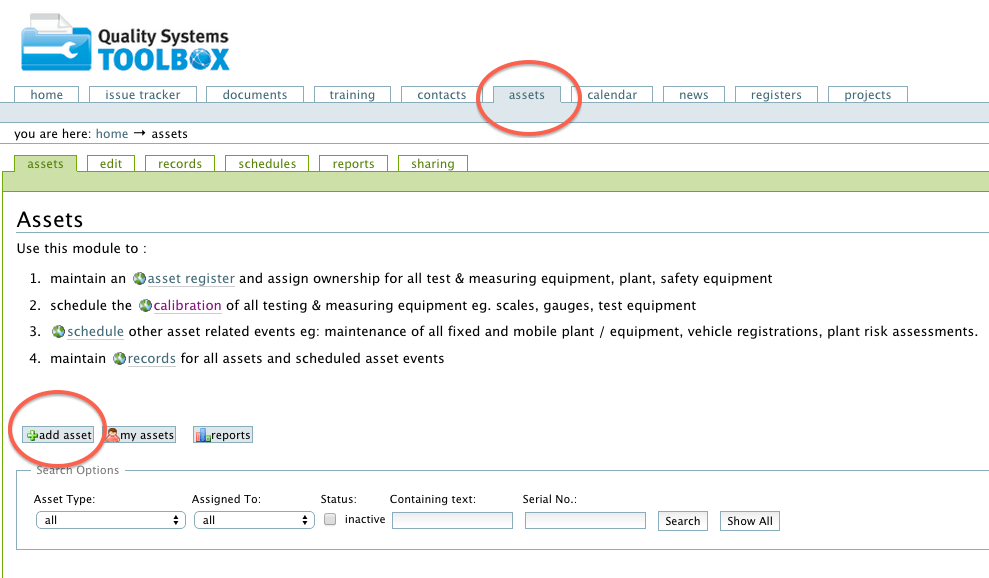 The Title of the Asset is the only required information (marked with a small red square). Give it a descriptive name that you will be able to recognise.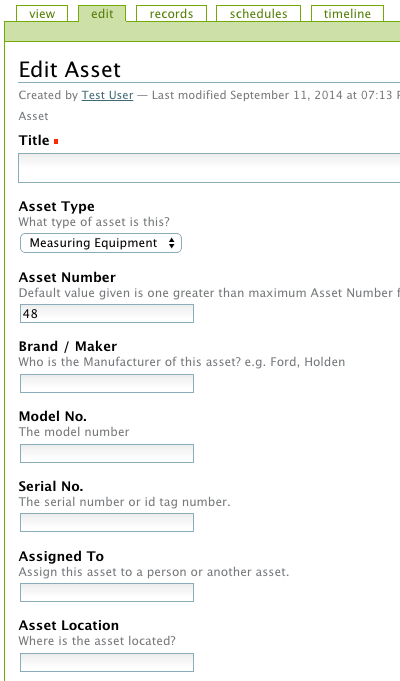 Choose the Asset Type. This list can be configured by your site administrator to suit your business.
The Asset Number will auto enter the next highest number available. You can edit this to be whatever you wish. If you already have a pre-existing system of asset numbers that include letters – no problem – just enter them in. However QSToolbox won't be able to auto increment mixed numbers for you.
Fill in as much or as little detail as is useful for you. You can always come back and edit the asset to add more later.
Assign the asset to someone – either they have possession of it or are in charge of looking after it. You can also assign an asset to another asset – e.g. assign a toolbox to a vehicle.
Within the text field you can add and link to any other information you like, e.g. which expert user can offer advice; link to Work Instructions, User Manuals, Service manuals etc stored in the Document Module; add an external link to the manufacturer's website, link to the supplier to call for repairs.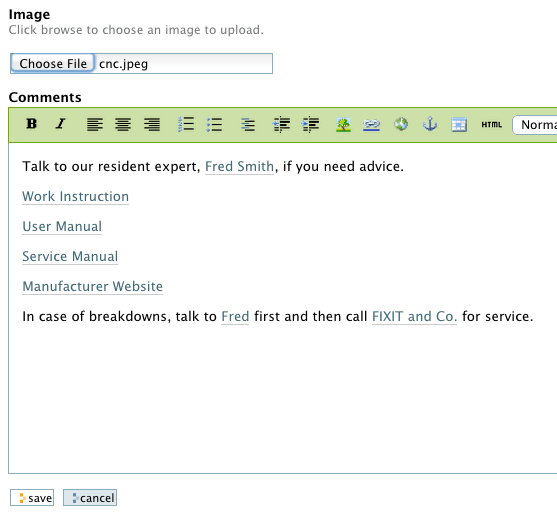 When you're done click "save".
If you have a new QSToolbox site and need to add a whole bunch of assets, we can import them for you. Go ahead and add one asset to see what kind of information is included. Use the export button to export your data as a *.csv file. Open the exported *.csv file in Excel and add the rest of your assets. Get in touch with us at support@qualitysystems.com if you need help or when your file is ready for import.