Add an Asset Schedule
Use Asset schedules to manage equipment calibration and maintenance.
This version of Quality Systems Toolbox is no longer in use. Current documentation for v3 is here.
In order to maintain the quality or your product or service, you need to keep your equipment in good order. This means regular maintenance, inspections, and /or calibration.
You can keep track of all this work using Asset Schedules.
First go to the Assets module and find the Asset you need to create a schedule for. If the equipment isn't listed in QSToolbox yet, add an Asset for it first.
Once you are viewing the asset, there are two places you can add a schedule. Either go to the schedules tab (to see all the schedules for this asset) or just click on the "Add asset schedule" button.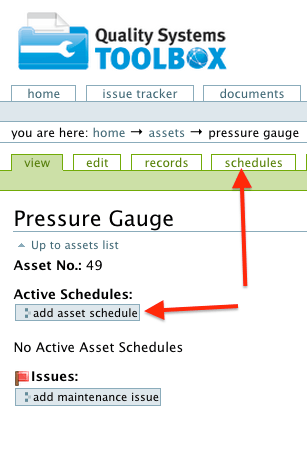 QSToolbox fills in some information in the title field for you, but it will often be better if you can give a more descriptive title on what the schedule is for. In this example the default title is "Pressure Gauge #49 Schedule", but I'm going to edit it to read "Pressure Gauge Calibration Schedule". If you have a lot of Pressure Gauges, then you might want to leave the Asset number in to distinguish this one from schedules for the other pressure gauges e.g., "Pressure Gauge #49 Calibration Schedule"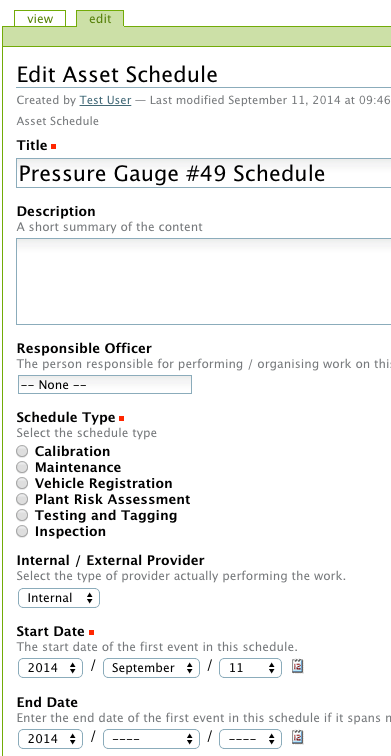 The Responsible Officer is either the person who actually performs the work (if it's internal) or the person who will organise the work (if it's done by an external provider). They will be responsible for making sure it happens and for adding the records to show that it has been done.
Choose the Schedule Type so that you can sort, search and report on it later. This list can be customised by your site administrator.
Choose whether the provider is internal or external. If it's external you'll see a field to select the provider from the contacts stored in QST.
Start Date is the date of the first event. The small red square next to the field name means it is required information. The End Date is optional and you should leave it blank unless the task takes several days, e.g. routine maintenance over several days each time it is conducted.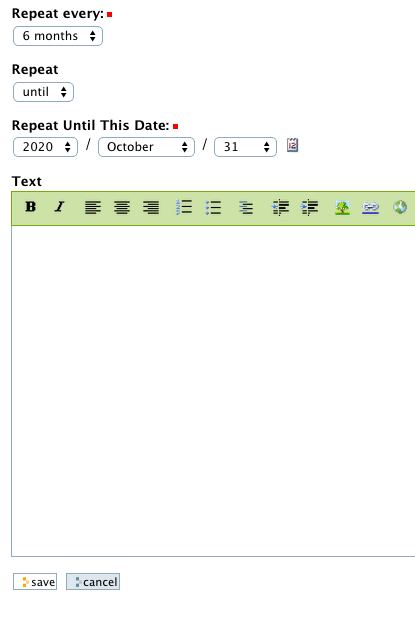 Set Repeat every to the frequency you need to conduct the work. You'll want to consult the manufacturer's recommendation.
Set the Repeat Until This Date to a couple of years in to the future. Ideally you'll be reviewing this schedule within the time frame you set. You can adjust the end date then as well as the frequency (if necessary) – based on the data you will have recorded by then.
Add any extra info into the large text field. You can include a description of the work to be done, and add links to the work instructions, user manuals, forms, etc required.
Click Save!